One of the best ways to reduce waste in your home is to take stock of items you use everyday and see if there is a more eco-friendly alternative you could be using. Recycling household waste is a great way to start, but let's try to look a little further.
*This post contains affiliate links.*
How I Started to Reduce Waste in my House
Once I realized how much waste I was sending to the curb on garbage days, it was truly a shock. I have a huge garbage bin that is put out every second week, and every time I drug it out, it was overflowing with bags. I knew I had to cut down on the amount of garbage I was throwing out each week.
For about a month, I paid close attention to what I put in the garbage everyday. There was a lot of food that we wasted. To combat this, I started a monthly meal plan that included a lot of meals with leftovers. I try really hard now to make sure we are eating everything we cook. This is also great because I can make chili or casserole and it lasts for 3-4 days, making supper time super easy for me on busy nights.
RELATED POST: Tips for Living a More Sustainable Lifestyle
Recycling Household Waste
Recycling household waste was my next step. I looked a little deeper into what I could be putting in my recycling bin instead of just throwing in the trash, and that helped a lot. City hall was able to give me more detailed information about what could be put in the blue bins and they were happy to help. I found out that there were a lot of items I was throwing in the garbage that could actually be recycled.
I also found out through a little digging that not only do grocery stores have drop off locations for plastic bags. You can also put other things in there to be recycled. The plastic wrapping on toilet paper and paper towels can be thrown in there too, as well as bread bags, produce bags, newspaper bags… You can find more information here. When I go do my monthly grocery shopping, I bring a bag of items that can be thrown in there to be recycled.
Recycling what you can is really a huge help in reducing the amount of garbage you send you landfills.
RELATED POST: Creating a More Eco Friendly Home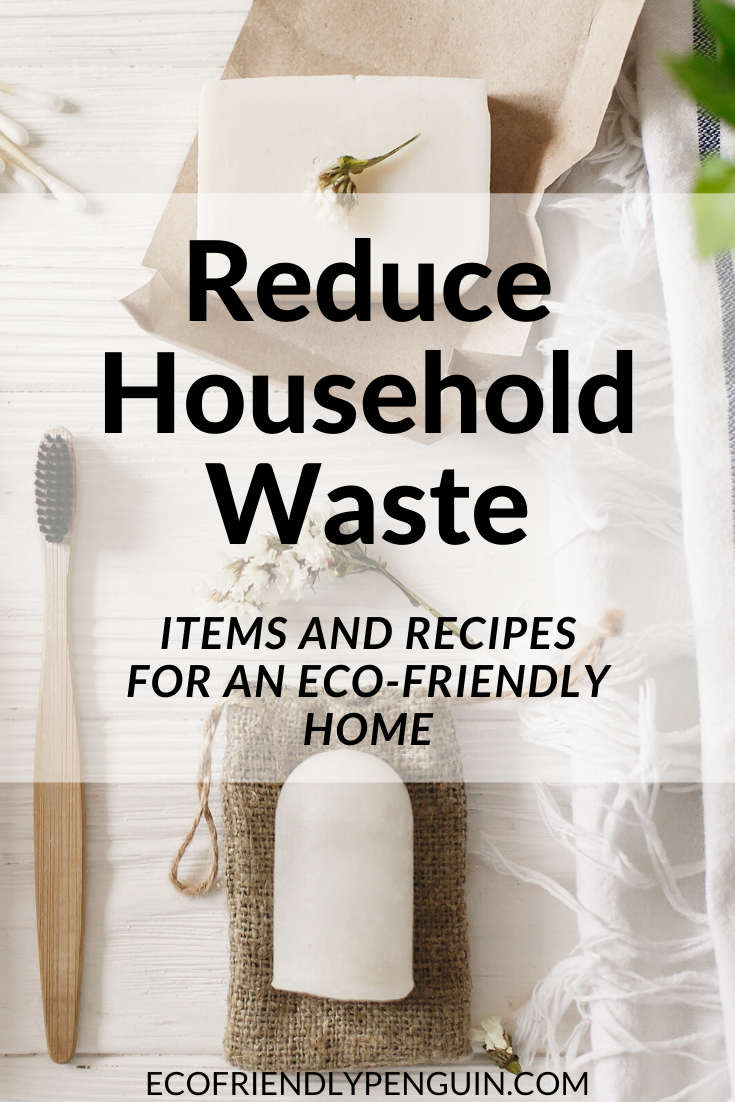 Items You Can Easily Replace
There were also some items I found I could replace with a more eco-friendly version that would help reduce waste by giving me a recyclable option, or an option that doesn't need to be discarded at all.
Making your own Household Products
Another way to reduce waste in your home is by making your own products. Making products is inexpensive too, and you can make a bunch at once so it's really efficient! Most recipes require very little ingredients too. For the most part they are all natural, making them a great choice for the environment.
Here are a few recipe ideas for you to try out:
There are literally hundreds of recipes that you can make to clean your home with. These are just a few of my go-to recipes. I really like that fact that I know exactly what I am using to clean my home. There are no added chemicals and they are all safe for humans and pets!
**Vinegar is an excellent item to always have on hand. There are a ton of uses for it and a ton of recipes and DIY cleaning products that call for it too. I try to make sure I always have some in my pantry. Vinegar kills germs, bacteria, and smells. I have a spray bottle filled with half vinegar and half water. It's a great way to get rid of smells in a pinch.
RELATED POST: Cleaning With Hydrogen Peroxide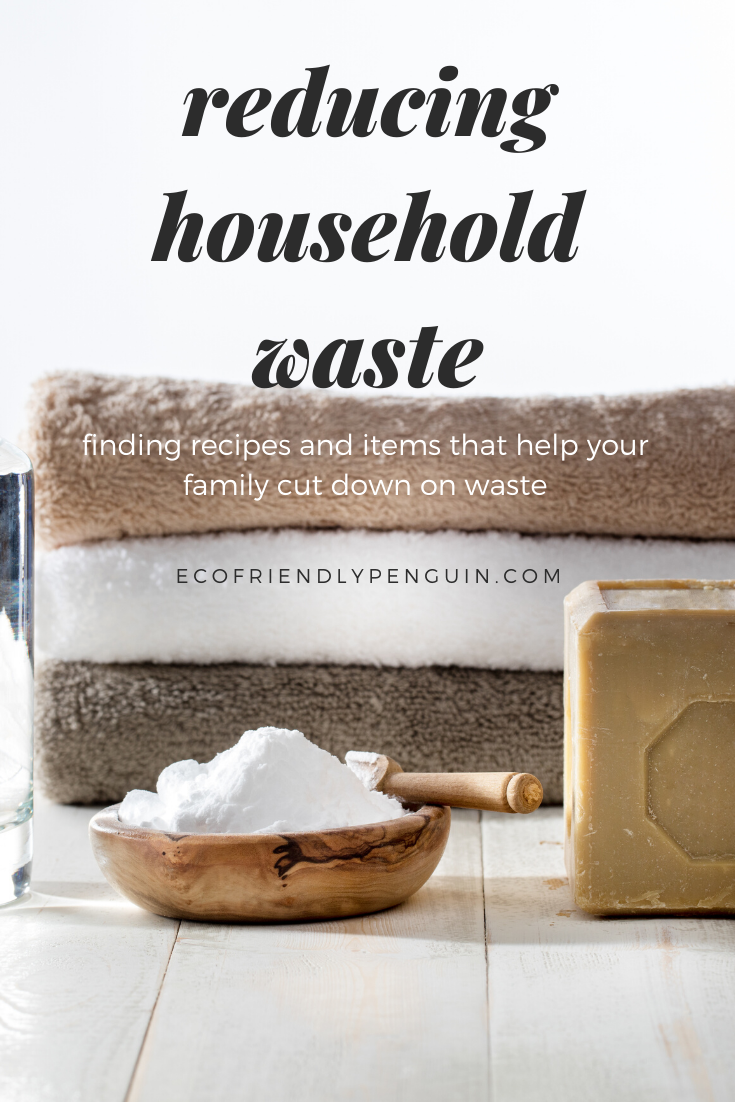 Making Things Work for Your Family
It will take time to reduce waste in your household, but you will make a significant impact. You can start by Recycling Household Waste, and then start switching out your products.
You may not see results immediately, but please keep pushing on! Keep track by taking pictures for each garbage day. You can also start writing down what you can do next month to improve your results.
It may not always be easy, but it will be worth it!