Growing Broccoli Indoors is a project I have been working on for awhile. I love having fresh veggies during the summer once the garden starts producing, but what about the winter months? I have been planning, and planting, some veggies and herbs right in my kitchen, so I've decided to share it here with my Indoor Gardening series!
*This post contains affiliate links.*
Before we moved I never thought it would be possible to grow so many things indoors. Now we have plenty of space and windows to grow plants. I got myself started with some indoor plants that will grow all year round. It's great in the winter when fruits and veggies aren't in season, they are often too expensive for me to want to buy!
Growing Broccoli Indoors
Growing broccoli indoors is actually pretty simple if you follow the steps in this post.
You will want to start by choosing broccoli seeds that will do well in a container. I personally use the 'Waltham 29' because of how well it does in containers and it matures a bit faster than other varieties. This variety typically takes about 85 days to reach maturity, however, when growing broccoli indoors, you will want to give your plants an additional 2-3 weeks to mature.
You can either grow your broccoli yourself straight from the seeds, or buy starter plants depending on the time of year or your climate. For me, I wouldn't be able to get starter plants until spring time, so starting from seeds is sometimes my only choice.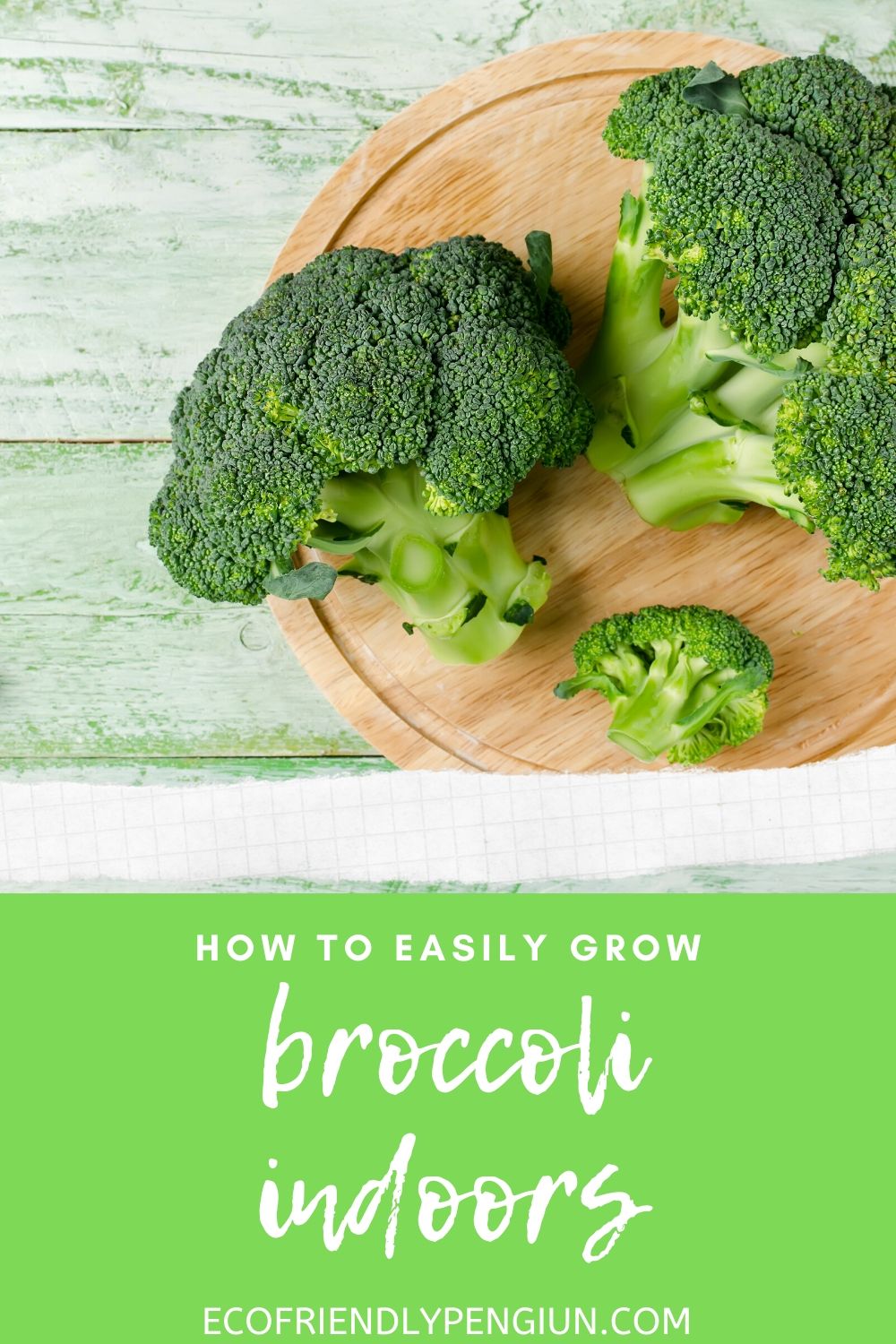 Picking The Right Container
To start growing broccoli indoors, you will need a container that is at least 8″ deep and 20″ wide so you have plenty of room for your broccoli plant to grow. This size will be big enough for one or two plants, so if you want to do more then that you will either need more planters, or bigger containers! Each plant will need about 5 gallons worth of soil to grow to their potential.
You want to make sure your pots have good drainage so roots don't rot. These pots from Amazon are similar to what I have used in the past, and then I just sit them on plant saucers to catch the excess water.
Bonus points if you are able to re-use old containers or jugs! I have saved and used a lot of old water jugs or pots to re-plant things in. To do this, I sometimes need to get creative in how I get the water jugs to drain. I cut small holes and sit them on saucers, slightly elevated to allow drainage.
RELATED POST: Zero Waste Gifts
Getting Adequate Lighting
Your broccoli plants will need at least 6-8 hours of light during the day. Broccoli are one of the plants the require less sunlight than other veggies, and they can even do well in certain shadier conditions.
If you don't have a window for adequate light, you can always purchase a grow light. A grow light can work just as well as sunlight, and is sometimes a necessity in the darker, winter months. Make sure your grow light has a timer that you can set for at least 6 hours of light per day.
RELATED POST: Homemade Facial Mask
How to Treat Your Soil
The broccoli plants will need to be kept fairly cool, ideally around 55-75 degrees Fahrenheit, or 12-23 degrees Celsius. If they get too warm they can quickly end up bolting, otherwise known as flowering.
You want to make sure that you keep the soil moist at all times, the plants need plenty of water. Make sure your soil drains easily and is fertile. As I mentioned above, make sure your container or pot has good drainage so the excess water doesn't sit at the bottom of your pot. Use a spray bottle to water your plants so you can easily control how much water they get, plus a spray bottle won't cause the soil to move around and potentially disrupt your seeds.
Make sure to use a potting mix that is specifically made for growing vegetables. Dirt is not the same as potting mix. Potting mix is designed specifically for growing things in pots, and is lightweight and drains easily so it won't drown out your plants.
Plant your broccoli seeds according to the package but keep in mind that growing plants indoors does take longer than growing them outside, but it will be well worth the extra wait, especially in the colder months!
RELATED POST: Homesteading Farm Goals for Beginners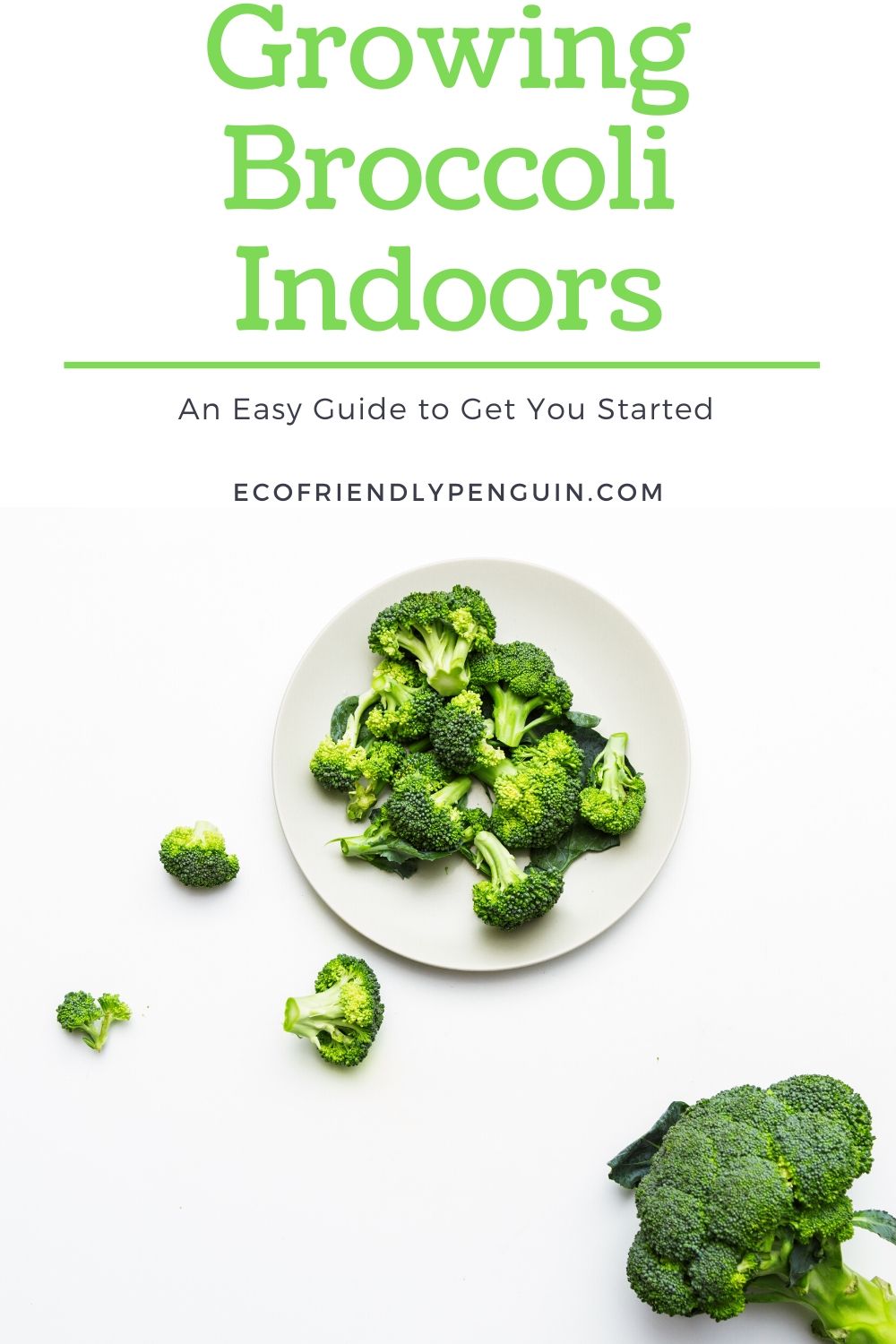 Alternate Ways to Growing Broccoli Indoors
If you are lacking lighting, space, or just want to try something a little different than your typical container garden, there are a couple other ways you can enjoy growing broccoli indoors.
A hydroponic growing system can save you on a lot of space and money in the long run. While buying the system itself might look expensive in the beginning, there is a ton of space in a single hydroponic system and it can be reused again and again. It also requires no soil, so you save money there, plus you can avoid the mess soil sometimes makes!
A greenhouse is another option to help your indoor plants thrive. You can get them in varying sizes, from small counter top options, to bigger ones that you can push around on wheels. Greenhouses help keep your plants at an optimal temperature for growing. A greenhouse is a great option for those who would love to have a garden but don't have the space to start one.
RELATED POST: Tips for a Successful No Spend Challenge
Patience, Patience, Patience
Just like with any plant, especially something growing indoors, you will need patience.
Growing broccoli indoors can be very rewarding (and yummy!) but will take a bit more time to mature, compared to broccoli planted outdoors. Make sure you are giving your plant adequate sun, water, and space to grow.
If you follow the few simple steps I have outlined here, you could be enjoying your own fresh broccoli in just a few months time!