In 2019, I made the decision to buy only cruelty free skin care and hair care products. As I ran out of my products, I started to slowly buy cruelty free and organic skin care products.
*This post contains affiliate links.*
I am an animal lover. I currently have 6 dogs, (Lola, Leia, Lily, Loki, Atlas and Rogue) 2 cats, (Nori and Spade) and a Turtle. (Tokka) If it wouldn't drive my husband crazy I'd have a few more than that too!
One of our dogs, Loki, is a beagle. I was totally heartbroken when I found out that beagles are the most commonly used dog in animal testing. What makes it even sadder is that they are most used because they trust humans the most of out any other dog breed. I can't even imagine putting Loki through such a terrible process.
I decided I needed to do my part and make sure I wasn't supporting animal testing any longer. I was shocked when I went through my closets because there were so many products that tested on animals!
RELATED POST: What is Homeopathy?
How do I know if it's Cruelty Free?
One of the best and quickest ways to tell if a product is cruelty free is if it has a bunny on the label. There are three main organizations, but they all have different standards as to how/why they accept new brands and products into their program. EthicalElephant does a great job breaking them down in this post.
You do have to pay attention to labels when looking for a cruelty free product option, some companies label their products as 'cruelty free' or 'vegan' when they are in fact, not. Sometimes companies will have Vegan on the label because their ingredients are 'vegan', but the product still tests on animals.
You can check out the three organizations here:

Cruelty Free Skin Care
The Body Shop
Recently I have been using The Body Shop's tea tree skin care line. They have sales quite often and I was able to buy almost the entire line at 40% off. They have several different skincare lines, depending on your concerns.
All of The Body Shop's products are cruelty free and they are Leaping Bunny approved. They also campaign against animal testing and have pushing to ban animal testing completely in Canada and Globally. They encourage their customers to also get active in helping ban animal testing.
The Body Shop also has a program so you can return your used bottles and they can be recycled. Every time you return 5 empty jars, pots, or bottles, you get a $10 gift. I love this initiative, and appreciate the opportunity to return items so my skincare routine is virtually zero waste.
e.l.f.
I have been shopping from e.l.f.'s website for years. First it was for their super affordable makeup and cosmetics products, and I was delighted when they introduced their skincare items in 2015 but didn't actually try them out until a few years later. I am a big fan of their The Supers Regime but I hope they introduce some sort of program to return empty containers in the future, otherwise I'll stick with the Body Shop.
e.l.f. have been cruelty free and 100% vegan from the start.
RELATED POST: Making the Switch to Organic Skincare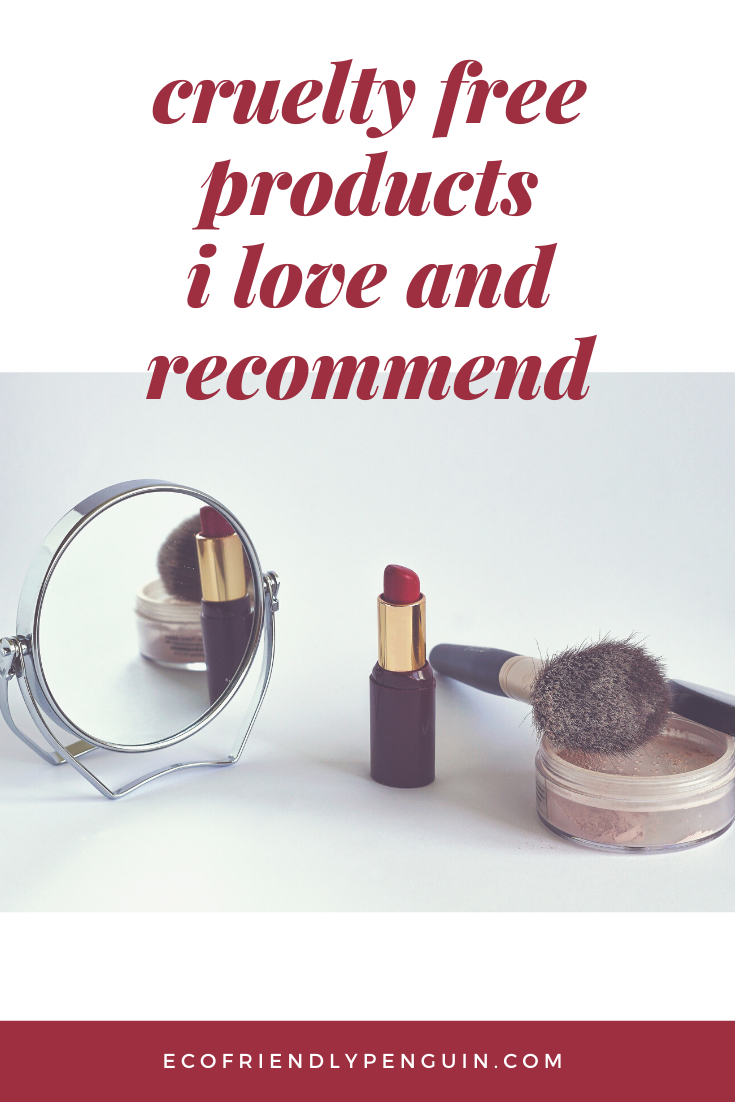 Cruelty Free Hair Care
Giovanni is a large salon style hair care brand that focuses on cruelty free products and natural 'eco-chic' ingredients. I currently use their Tea Tree Triple Treat Shampoo, Smooth as Silk Conditioner and the Nutrafix Hair Reconstructor deep conditioner.
Renpure's products are all plant based and cruelty free. I currently use their Tea Tree Mint shampoo, but sadly it has been discontinued. I have also used their cowash in the past.
Finally, I also use Luseta hair care products. Their products are all natural and cruelty free. I currently use and love their Apple Cider Vinegar Clarifying Shampoo.
Sadly, none of these three companies allow you to return your bottles once they are empty. I only buy these products in their biggest sizes, so they last me about 6 months per bottle.
You can check out the full list of my hair care products here. You can also check out a list of shampoo bars I recommend here.
Transitioning to Cruelty Free Products
If you are ready to take the next step and go cruelty free, try not to dive in head first. You don't want to end up overwhelming yourself with all the options and all the products you need/want to replace. Start one product at a time, do your research, and find something you love.
It may take a bit of time before you are able to replace everything, especially if you have some holy grail products that need replaced.
It's also important to keep in mind that cruelty free products don't need to be super expensive. The item's I've listed above are pretty inexpensive. e.l.f. is one of the cheapest brands on the market and The Body Shop has sales frequently. I have found all the hair care products at Winners for great prices, for huge containers too.
Don't Throw Stuff Out
If I have encouraged you to switch to more cruelty free products, that's great! But please don't go through your cupboards and start tossing items. If you really can't bring yourself to use up what's left, donate your old products to women's shelters or homeless shelters. Or if you know someone in your family who would gladly use them, hand them off to them.
There's no point in wasting product that has already been purchased.
Don't Get Preachy
I can't stress this enough… I am so happy you decided to go cruelty free, but you have to let your friends and family make that decision on their own.
If you start telling them all the (horrible) facts about animal testing and what goes into their favorite products, chances are slim they are going to drop their products and switch to cruelty free items. They are just going to be annoyed with you.
If you really want to persuade them, try introducing them to your favorite products instead.