As part of my on going effort to be greener, I have started to focus on my morning routine. My ultimate goal is to have 100% eco-friendly and cruelty free products. Did you know there are tons of chemicals in our toothpastes, deodorants, and soaps? I started to switch out some of my products so I could create an eco-friendly and healthy morning routine.
*This post contains affiliate links.*
My Healthy Morning Routine
I've been trying to creating a more productive and healthy morning routine for a couple months now. I think I have my routine almost perfected by now.
Currently, this is what my mornings look like most days:
Get up at 6am. Put dogs out and feed them.
Grab a tumbler of water with lemon slices. I drink about 500ml before I eat breakfast.
Head to the office. I start my work day by writing down my goal(s) for the day.
I spend about 30minutes either working on a writing project or reading a book. (I'm currently reading Finding Ultra by Rich Roll)
I go through my emails, clear out the junk, and deal with the urgent stuff.
At 10am I eat breakfast.
During the warmer months, my husband and I will go for a run in the morning before work. During the cold months, we usually use the treadmill or bike after work.
RELATED POST: Homesteading Farm Goals for Beginners
Simple Switches for an Eco-Friendly Routine
Creating the best morning routine for me included making sure I was using eco-friendly and cruelty free products. The good news is that there are tons of brands promoting and specializing in eco-friendly and all-natural products now. A quick search will give you tons of different options and there's more and more everyday. This means that you are way more likely to find your new fav products, the same couldn't be said 20 years ago! Even 5 years ago it was a struggle to find a good selection of products.
Changing out products one or two things at a time will make it a lot easier on yourself. Don't go out a replace every product in your bathroom right away, take your time so you can test things out so you don't end up with a cupboard of items you didn't like, and that you will never finish.
Oral Care Items
Toothpaste, mouth wash and even tooth brushes are a pretty simple switch to make. There are loads of products on the market now to help you transition. You can't go wrong with a bamboo toothbrush!
Here are a few options from Amazon you can check out, I have used these items personally:
You can also head to a store like Lush, that has a lot of options for toothpastes, along with everything else you need for you morning routine!
Body Care Items
I'm still testing out different body care items and brands. However I will share with you a few of the items that are on my "to-try list".
Deodorants are a little harder to find for me because I am picky. I like a stick deodorant and a lot of the more eco-friendly or low waste brands are powders or 'pastes' that you apply to your armpits. I have done a bit of research into stick deodorants that are eco-friendly and this is what I have found so far:
Soaps are pretty easy to find, or you can even make them yourself. I have been using hand and body soap bars from The Soapworks for years now. They are inexpensive and a zero waste. I buy them from the bulk barn for $1-2. There are tons of options, including many that are perfect for sensitive skin, a shampoo and conditioner bar, pumice bars, clay bars, etc.
Lotions
RELATED POST: Switching to an Organic Skincare Routine
Hair Care Items
I have quite a few posts already about Cruelty Free Hair Products, Best Shampoo Bar Options, and Curly Girl Approved Options for Hair. I love talking about hair care so you can check out these articles for a more in depth look into some of my fav products and suggestions for low waste and eco-friendly options. For now though, here are a few of my top choices and things I commonly use in my morning routine.
RELATED POST: Cruelty Free Hair Products I Love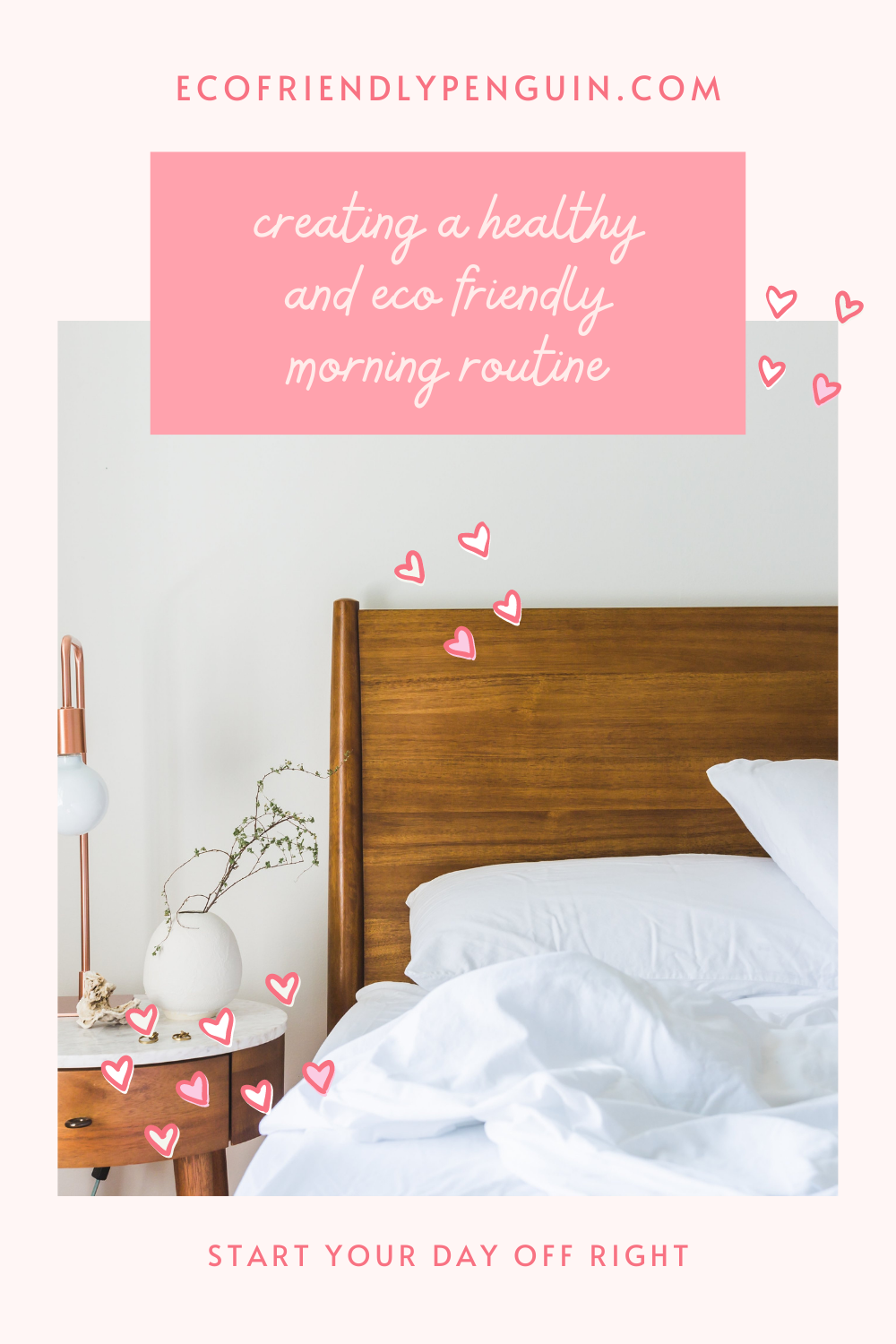 Skin Care Items
Skin care is something a little trickier to offer suggestions for. I feel like it's very personal depending on how sensitive your skin is, whether it's oily, or dry, etc. A few brands you might want to check out are Kopari, Juice Beauty, First Aid Beauty, and e.l.f.
e.l.f is a great place to start because they have a huge line of skincare and beauty products that are all cruelty free, and they are inexpensive too! They have a ton of items that are under $10, so you can try out a few things without a huge hit to your budget!
RELATED POST: Cruelty Free Skin Care Products I Love
Creating a Healthy Morning Routine For You
Not every routine will work for everyone. You need to find the best morning routine that works for you and your family. Working parents with three kids to get ready in the morning won't always have the time to stop and read a book, or journal, or workout, etc. Finding the right routine and products can take time! Be patient and take things slowly, and eventually you will fall into a healthy morning routine.